Free Demo
This demo is a fully functioning Microsoft Excel Spreadsheet with no nag features or timeouts. It is freely downloadable, and contains excerpts from the different spreadsheet subjects that we offer. The subjects are organized on separate tabs within the spreadsheet. Click here to download the demo.
Help Using Spreadsheet Tabs
The spreadsheet tabs in Microsoft Excel are located at the bottom-left side of the Excel Window as shown here: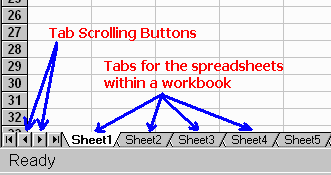 To switch between sheets in a workbook,
Click the sheet tab for the sheet you want to work on.

If you don't see the tab you want, click the tab scrolling buttons to display the tab. Then click the tab.
Tip: If your workbook contains many sheets, use the right mouse button to click the tab scrolling buttons. Then click the sheet you want.
To use the demo spreadsheet, select the subject that interests you by clicking on the corresponding tab in the spreadsheet. When you type numbers in the light blue shaded cells, the solution to each formula will appear in the cells which have a red border. You can also copy and paste from the spreadsheets into other spreadsheets or documents (like homework, for example).
Download the Demo